Clothing for Plus Size Women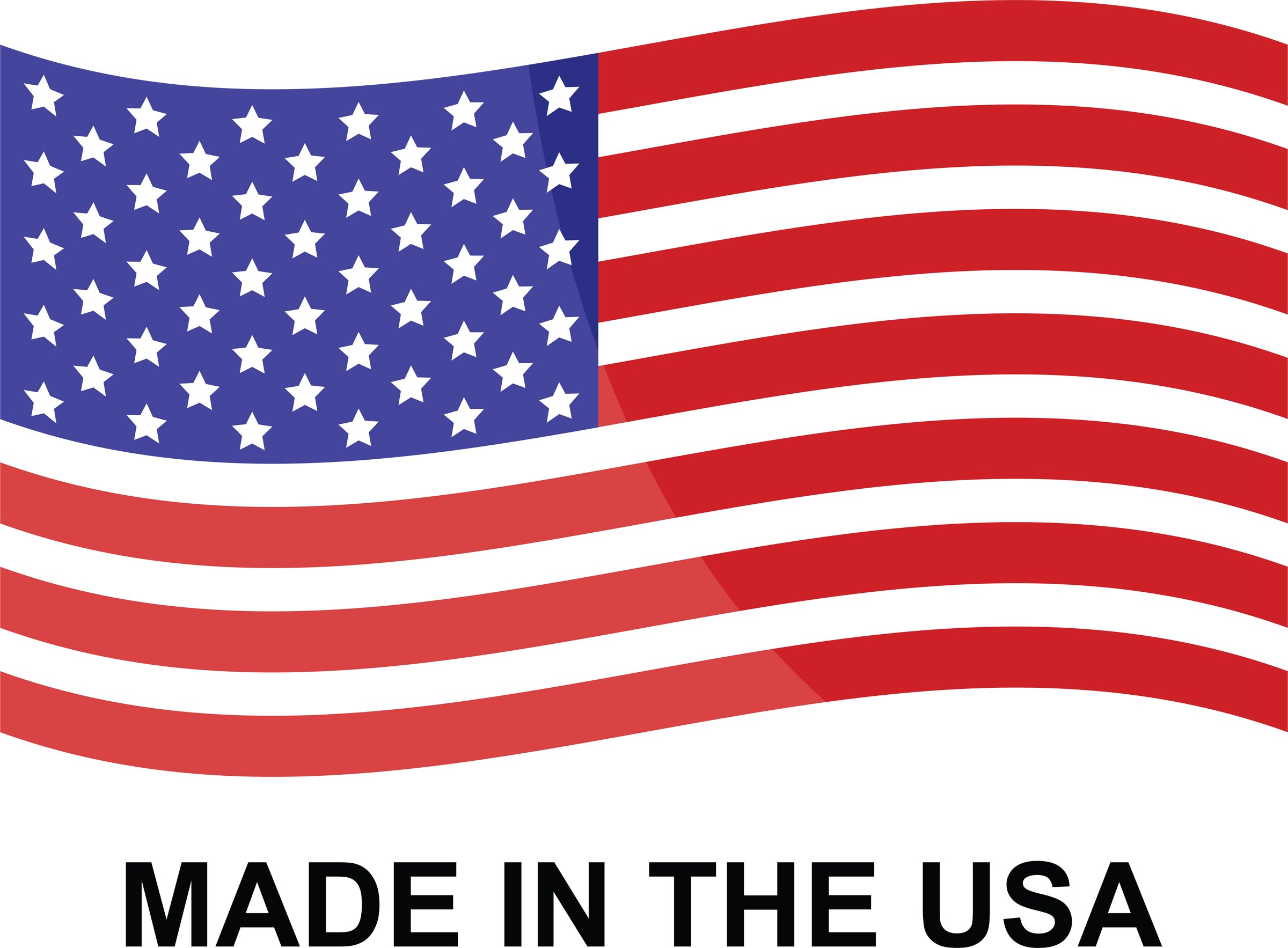 Get one-of-a-kind kimono-style spa robes at 3 Graces Design Studio located in the USA. We offer kimono-style clothing for women in sizes L (14-16) and XL (18-20). 'Goddess -sized pieces are available as well. We are offering the 'Goddess sizes' in our custom option. Click "Get started " button to determine your size based on the 3 Graces size chart and contact us for a consultation.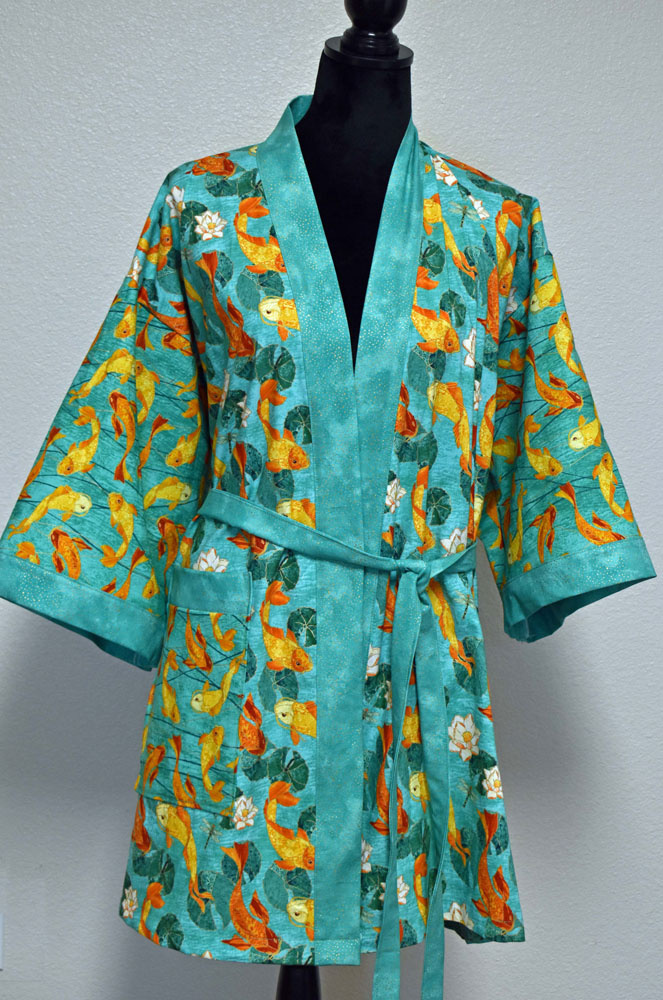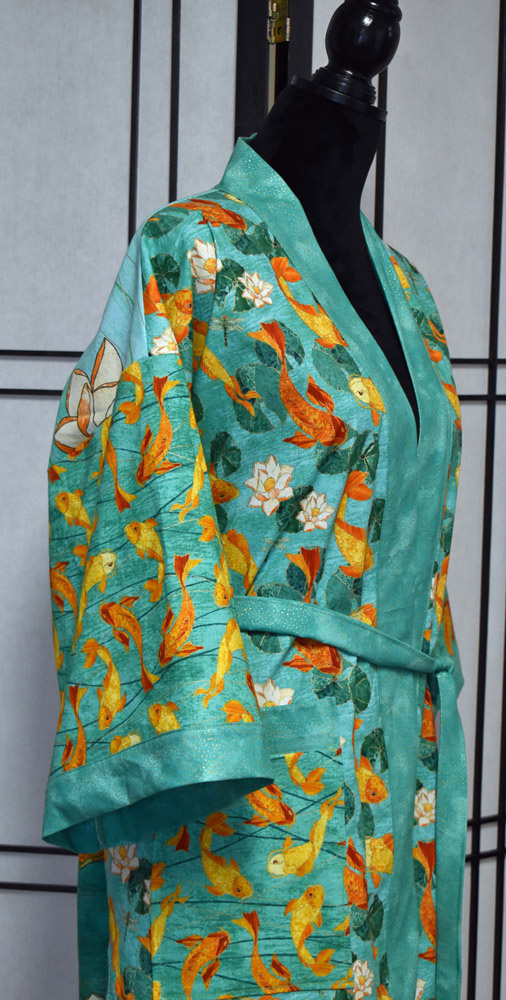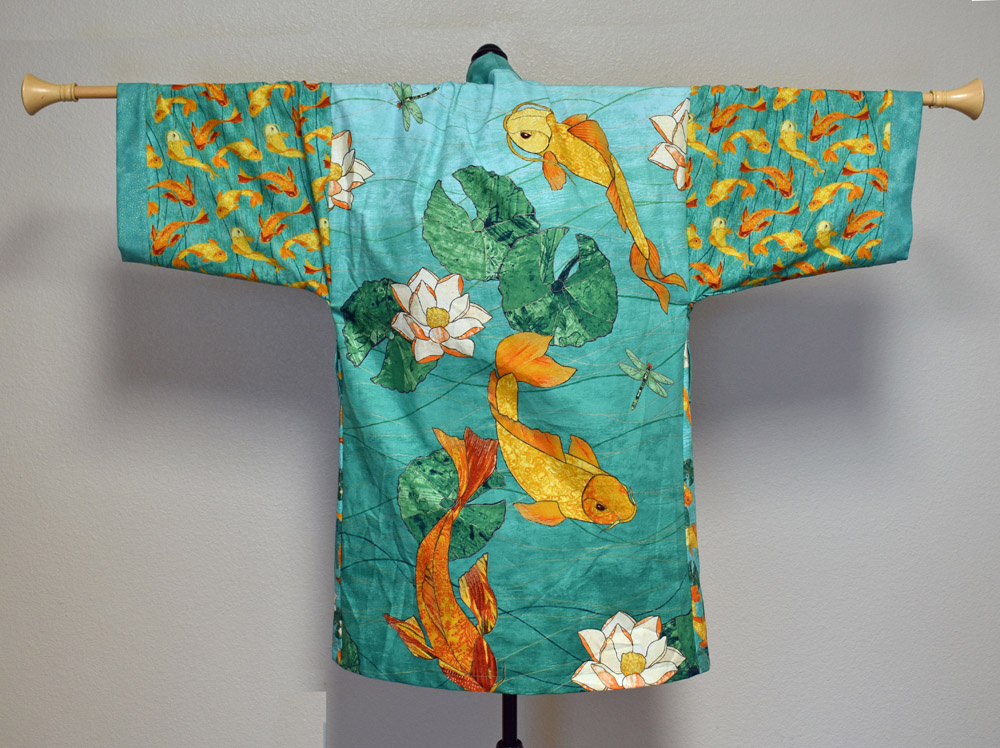 Planning a beach get-away or a cruise? Maybe just a pool side 'stay-cation'? Our Kawaii Kimonos and cover-ups with be a beautiful companion! All cotton, shorter above the knee length in tropical fabric themes and easy to pack too! Be prepared for everyone to ask, "Where did you get that??!!"
$120 - $135 in sizes M (size 10-12) L (size 14-16) or XL (size 18-20)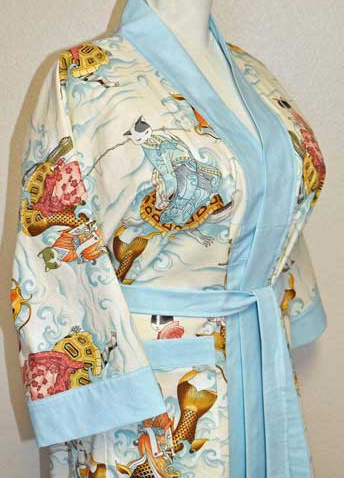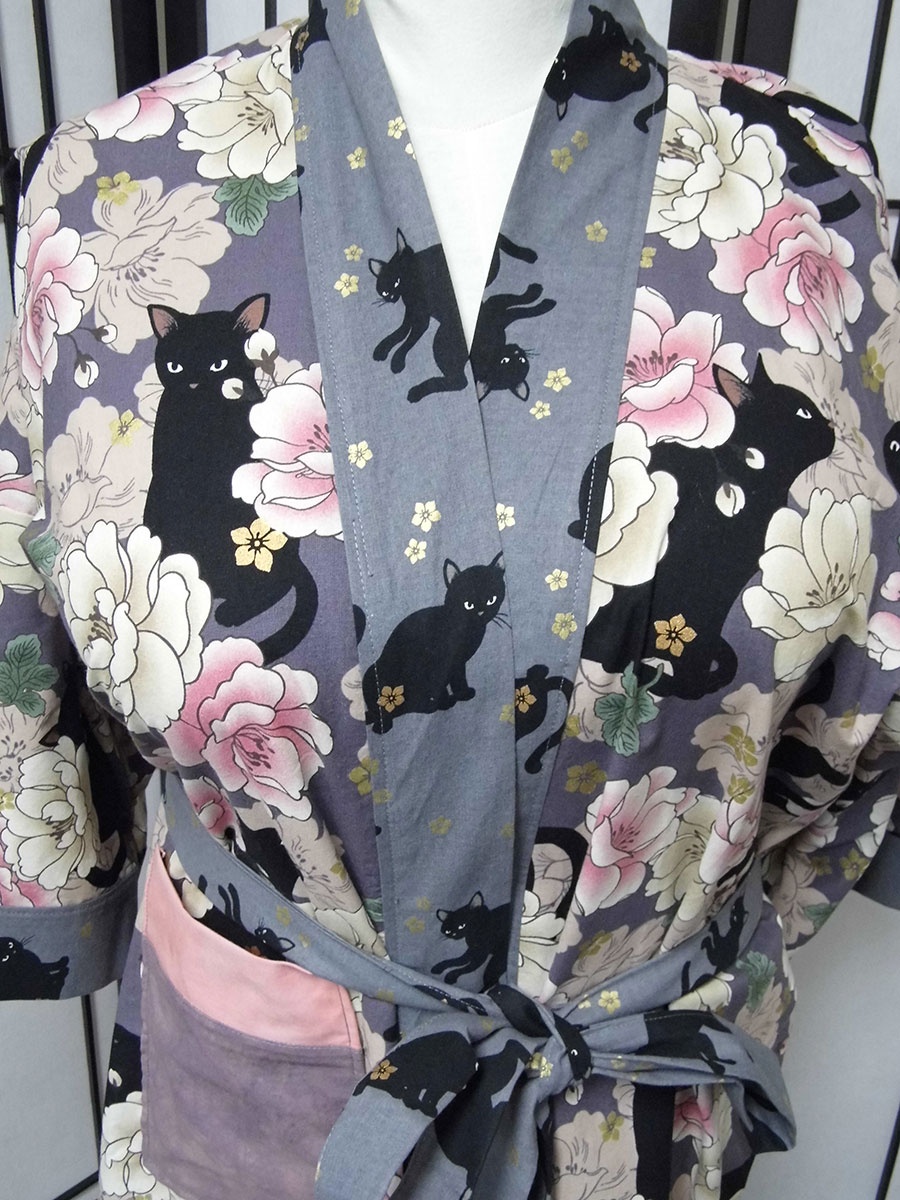 It's been a long day and you just want to relax. What you need is a Zen Garden—let our kimono-style spa Zen Garden robes take you there! These kimonos feature unique fabric designs that will wrap you in all cotton comfort to make you look and feel beautiful. The Zen Garden line features all cotton fabric in a variety of Asian and garden themes, with carefully chosen contrast fabric touches on the collar and sleeves.
$145 in sizes L (size 14-16) or XL (size 18-20)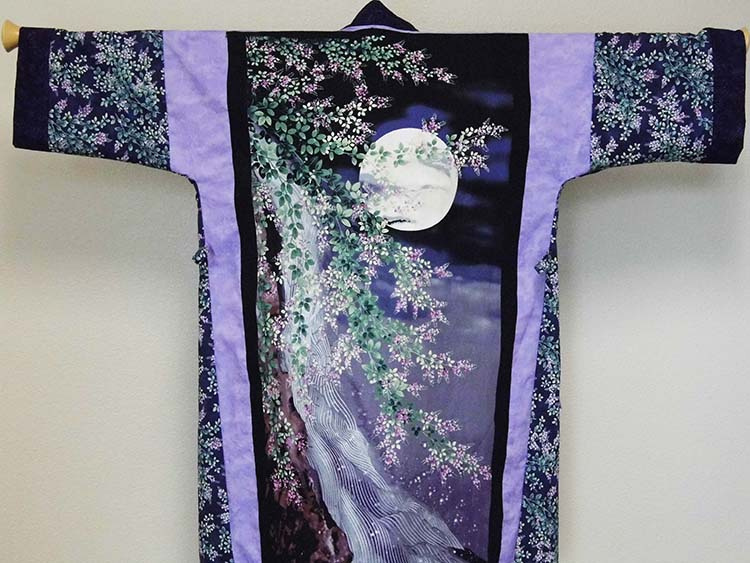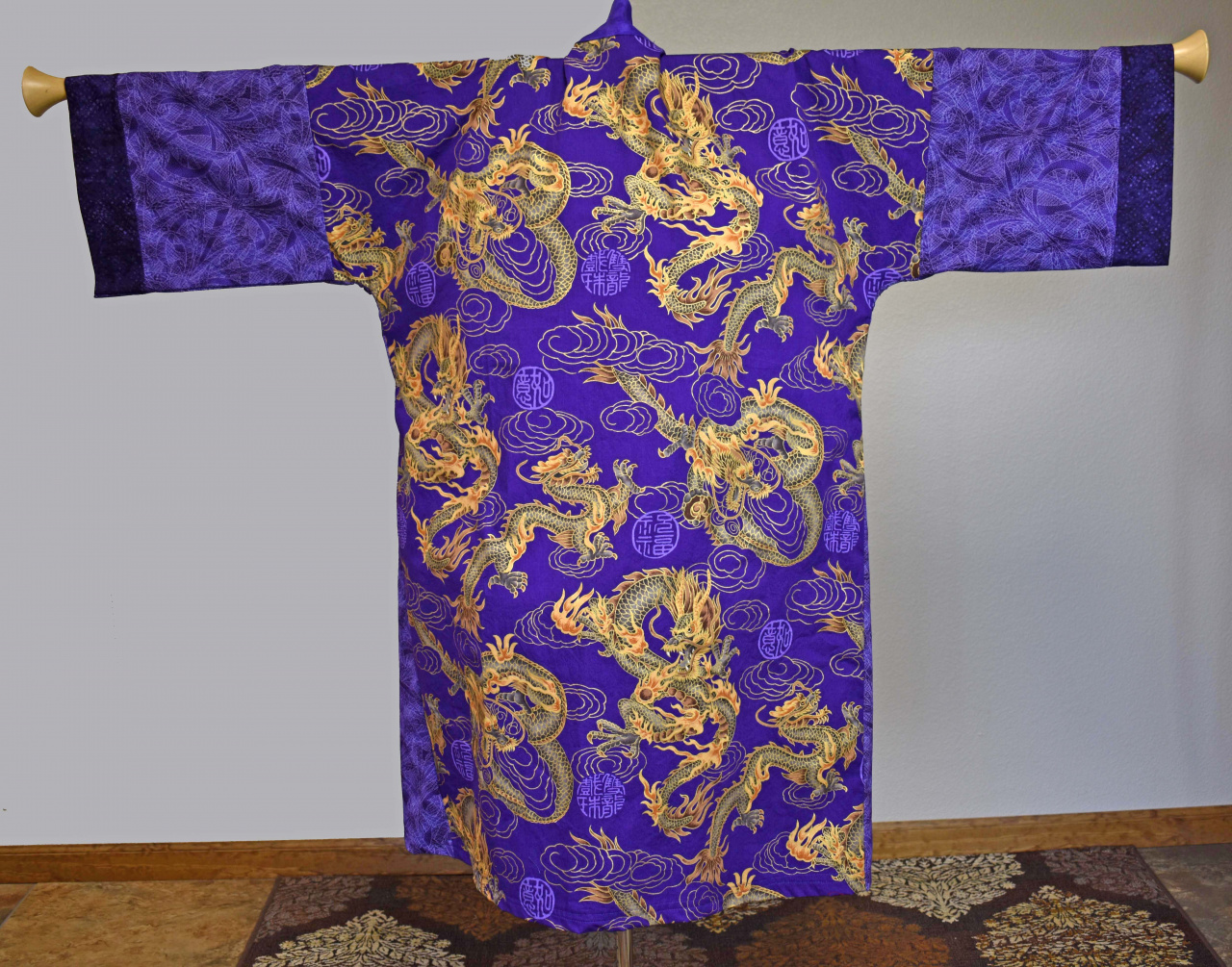 You deserve a promotion, a reward, or something to acknowledge all the extra effort you make every day at work or for your family. The Kyoto Collection kimono reminds you every time you wear it that you're special and you deserve to feel beautiful and comfortable.
These kimono-style robes encompass beautiful panel backs into their design, and frequently, these panels are unique with only a few available. Each Kyoto Collection robe is carefully constructed with the highest quality cotton fabric and designed around the back panel theme. Wearing a Kyoto Collection kimono-styled spa robe will make you feel like a pampered beauty, but your practical side will know that it's machine washable.
$155 in sizes L (size 14-16) or XL (size 18-20)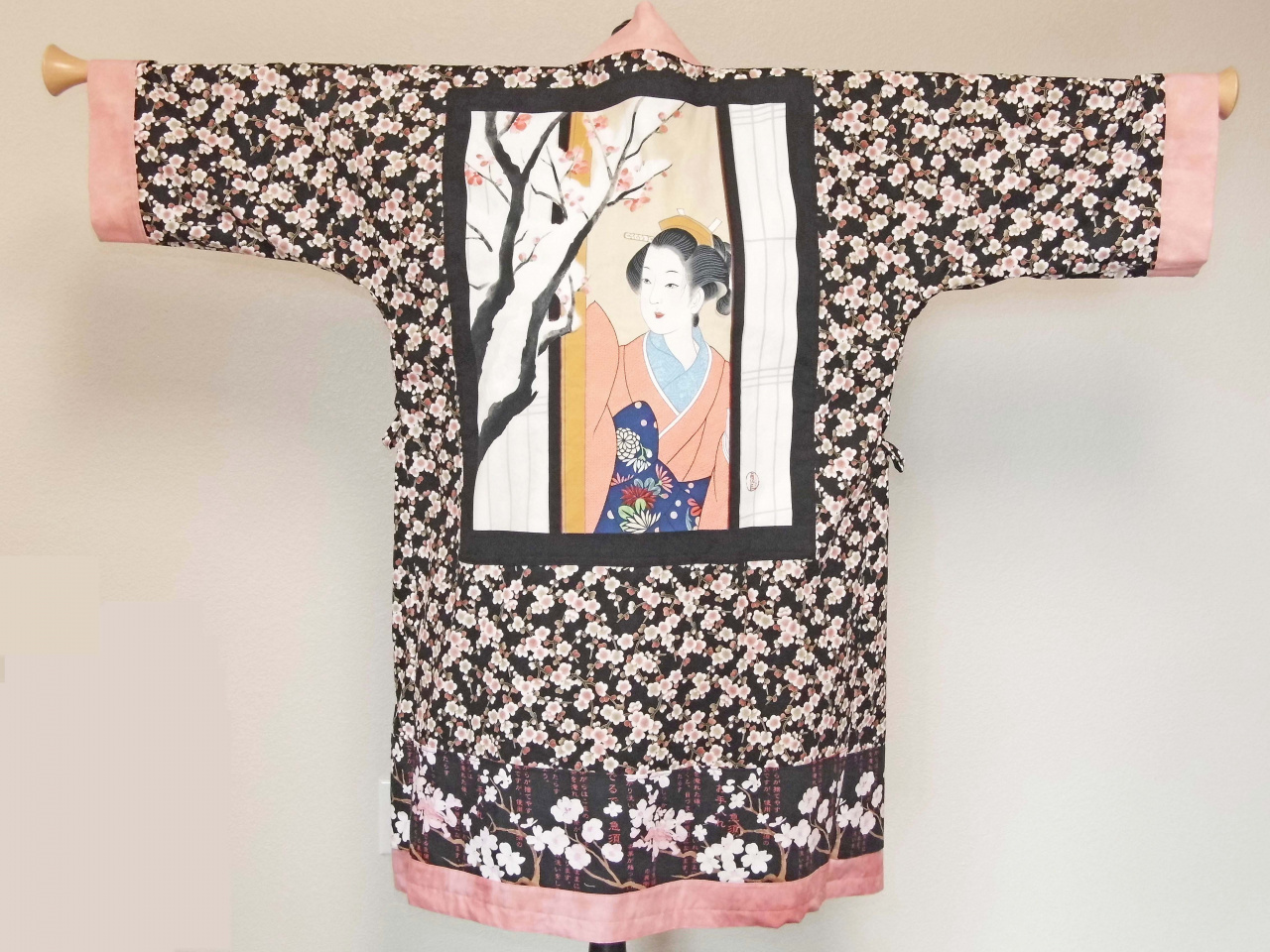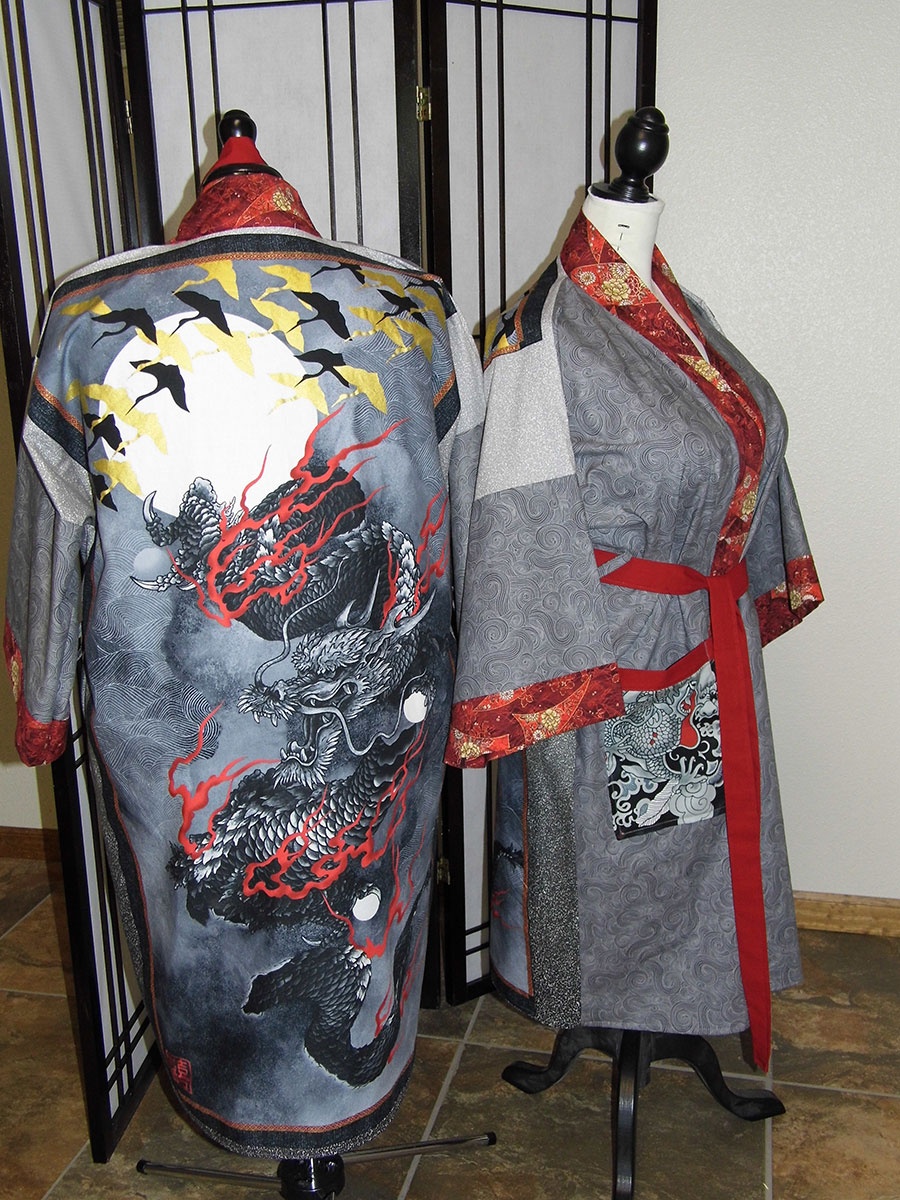 Everyone has clothes in their closet that were worn only once for some distant special occasion. You keep them because they are too beautiful to part with, but alas, no occasion arises for you to wear it again. That's not the case with your Couture Collection kimono-style spa robe.
An amazing piece, it features breathtaking premium back panels and luxurious cotton sateen fabric crafted into a comfortable cocoon of beauty. Its top-of-the-line fabric is carefully selected to create a one-of-a-kind statement, but requires no dry cleaning because it's machine washable! You can wear your Couture Collection kimono robe every day and feel beautiful every day, even without a special occasion. Our Couture kimonos come with a complimentary handmade soap from Diamond Bird Handmade Soaps, select your preference when purchasing your kimono!
$185 sizes L (size 14-16) or XL (size 18-20)
Order a Custom-Sized Robe

Do you love the style, concept, and beauty of the 3 Graces Design Studio kimono-style spa robes but need a special size? Our kimonos are made for larger sizes up to 5'6 inches in height, and we offer custom sizes for taller and shorter ladies. We can also make robes for those with "apple" and "pear" body shapes that don't fit in traditional sizes. Simply contact us regarding your needs, and we will send you a custom form with the details and measurements we will need. Price is calculated on fabric requirements, availability, and pattern adaptations. Our panel themes include geishas, dragons, temples, and cranes. We will be launching a Parisian Dressing gown style in April featuring non-Asian style fabrics
Check Out What's New in The Studio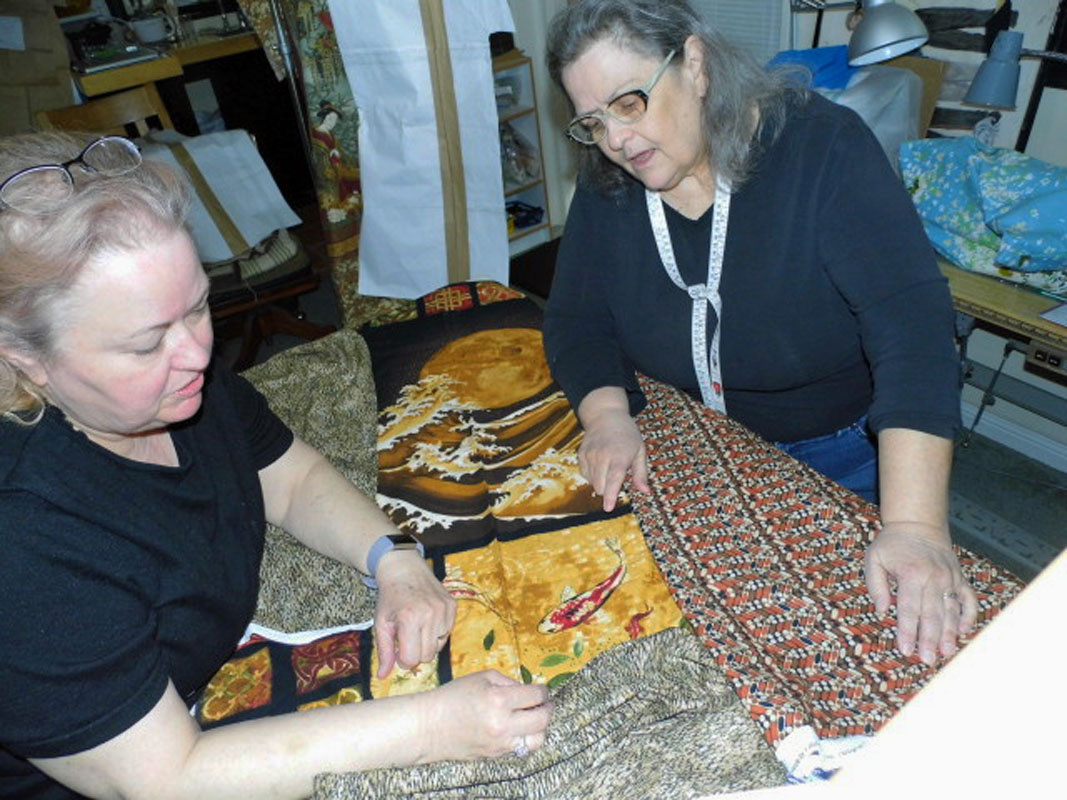 I traveled to San Francisco for inspiration and collaboration with my sister Cass,
on new kimono designs. 3 Graces Design Studio will be launching a Parisian Dressing Gown line featuring inspirations from the
Monet: The Later Years
exhibit at the de Young museum and a new tunic length 'street-wear' kimono inspired by the '
Kimono Refashioned
' ' exhibit at the Asian Art museum. Follow along with us on Facebook for updates!