Home to Customized Kimono Robes
Kimono Style Designed Especially for You!

For customized kimono robes, turn to 3 Graces Design Studio in the USA. We specialize in creating customized kimono cover-ups in beautiful fabric panels for plus size women. The business was established and operated by 3 sisters who wanted to make stylish clothing available for plus size women. Even though they live in different parts of the country and have different interests and backgrounds—Sheila is a retiree in Colorado, Cassandra is a costume designer in San Francisco, and Pegeen is an insurance agent in Albuquerque—they have come together to turn their cause into a full-fledged venture.
Stay Tuned for Our New Robes!
At 3 Graces Design Studio, we understand the difficulty of having to deal with circumstances and health issues that require surgery and recovery. As part of our mission to make more women look and feel beautiful through our kimono-style creations, we are designing a collection of mastectomy recovery robes. These robes will be shorter than bed jacket in length. A portion of the proceeds from this collection will go to breast cancer charity. Do you have any questions or feedback about our company and products? Please do not hesitate to get in touch with us. We are always glad to hear from you!
https://www.facebook.com/3GracesDesignStudio/
The Makers Behind Our Customized Kimono

Sheila Hughes retired after 15 years as a technical trainer for a large government contractor. It was a great career that enabled her to challenge herself and travel the world. However, after a diagnosis of osteoarthritis and total hip replacement surgery, she decided it was time to stop the crazy travel schedule and pursue her retirement dream of making kimono-style spa robes.
The idea came to her a few years ago. Back in 2015, she was swimming a few times a week before work and needed to get dressed at the sports club after. While putting on her makeup, she needed a nice robe for modesty and to keep her warm after the cold pool. She looked online and at big-name department stores, but she discovered that in her size, 16+, the selections were either too bulky to fit in her gym bag, made of polyester, or it looked like a housecoat her grandma wore.
Then, she remembered the kimono robes she adored from her travels to Japan. She loved the beautiful kimono patterns, colors, and comfortable cut. However, she needed something in cotton and not silk, something with the beauty of a kimono but is machine washable. She also wanted the sleeves shorter so she could put on make-up, or wash her hands without the sleeves getting in the way.
She then called her sister Cassandra, a costume designer in San Francisco. She told her about the idea and her sister flew out to Colorado. They developed a pattern that met all the elements she wanted and they made a couple of prototypes. When she wore one of the prototypes to the sports club, the other women were so impressed and asked her where it came from. When she told them it was prototype, they wanted one for themselves too!
Flash forward to after hip surgery. Sheila had both hips replaced, 3 months apart. She had to learn to walk again after the surgeries and it was very physically draining. One day, she was wearing her old sweatpants and a t-shirt struggling with recovery after physical therapy. She saw herself in the mirror and it made her feel uneasy because she thought she looked unpleasant. She remembered her kimono robe and slipped it on over the sweatpants and t-shirt. It made her feel a little better because it was so beautiful. That's when she learned that when you wear something beautiful, it makes you feel beautiful. After that, she made an effort to wear something beautiful every day—a pair of earrings, a pretty pin, a nice sweater, or just something to make her feel a little better about herself. She realized that when you feel better about yourself, it gives you confidence. That was when she decided it was time to follow through and make the kimono-style spa robes for larger ladies.
The kimono-style robes are handmade, beautiful like works of art, but entirely made of cotton so they can be worn every day and washed in the washing machine. Everyone, regardless of size, should be able to wear something that makes them feel beautiful, every day.
Hobbies: Quilting, fly-fishing, and learning to play the ukulele!

Cassandra Carpenter, USA Local 829 | Past President and Founding Member (Bay Area Costumers Alliance) | Costume Designer (TRFTAI Productions) | Instructor Costume Design and Makeup (Stage and Film) | Instructor/Designer (San Francisco State, Fall 2008)
Cassandra has been a professional costume designer in the Bay Area for over 25 years. She has also been operating her own independent costume studio, CMC&design in downtown San Francisco. Her clients include Smuin Ballets SF., San Francisco Ballet, San Francisco Opera, Macy's Passport, Baz Luhrman's La Boheme, Carosel du Roi a horse ballet, Jersey Boys, White Christmas (Broadway), and many other commercial projects.
Her theatre credits include American Conservatory Theatre School of Theatre Productions, Berkerley Repertory Theatre, Marin Theatre Company, San Jose Repertory Company, San Jose Stage Company, The Magic Theatre, Word for Word,
Aurora Theatre Company, San Francisco Shakespeare Festival, Center Repertory Company, and Chanticleer (2 operas). Her film credits include several video games, independent films as well as SuperHero Party Clown for Spartan studios at SJSU.
She also handled dance design for the Smuin Ballets SF, ODC, and Anne Bluthenthal Dancers, and she has been on the costume staff of the Oregon Shakespeare Festival, Old Globe Theatre, Berkeley Rep, San Jose Rep, and California Shakespeare Festival.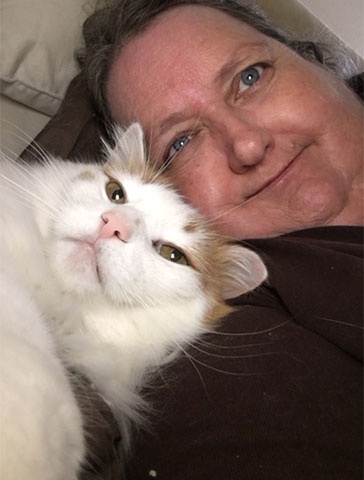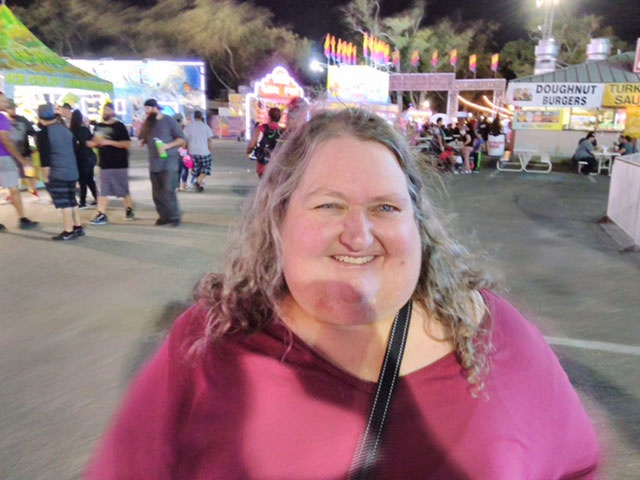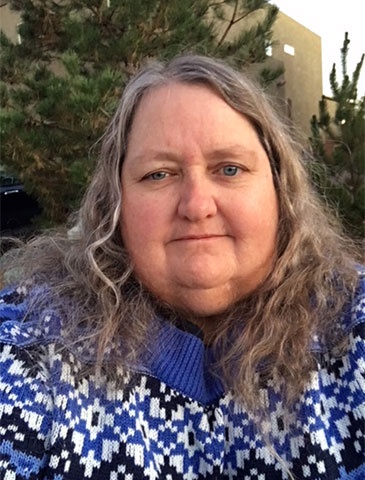 Pegeen is a Workforce Coordinator at Staywell Health. She works on the Workforce Management team and manages personnel PTO and shifts and coordinates the PDS dialer system that is the backbone of the customer service sector. Her positive, proactive personality makes her a natural for customer service. She enjoys traveling, co-parenting her very active Siberian Husky and of course, she loves her kitty. She lives in Albuquerque, NM where the sun shines 360 days a year.